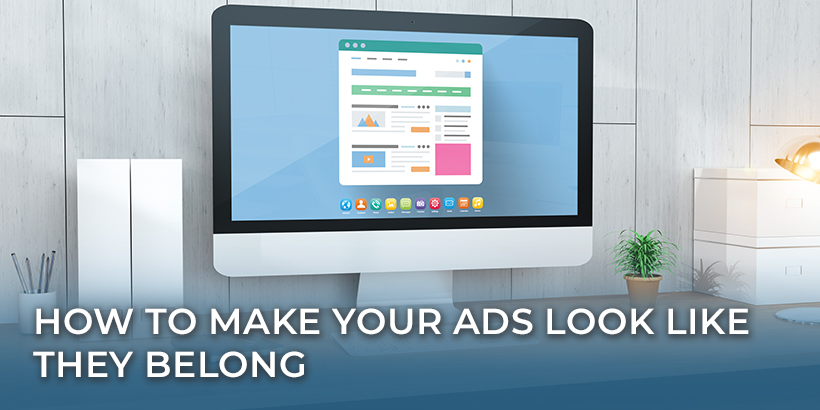 Imagine you're at a friend's house for lunch. After you spend a few minutes catching up, a stranger opens the front door, sits down at the table, and leans into the conversation.
That's what it feels like when your ads look out of place on someone's website. To the reader, those ads are trespassers, inappropriately barging into a private experience.
But it doesn't have to be that way. Because your ads aren't trespassing. They're supposed to be part of the experience people have on your publisher's website. As an advertiser, you can take steps to ensure that your ads look and feel more like they were invited (so readers won't instantly close the door on them).
Know where you're advertising
If you don't know where your ads are going to appear, it's pretty much impossible to make them look like they belong there. The colors might clash, or blend in with the background. Your messaging might be totally inappropriate for the context and you won't know.
The point here isn't to camouflage your brand. It's to find the right way to introduce it. The tone of your ad should match the tone of the site where it appears. A more academic or "classy" site should bring out the most academic, classy aspects of your brand. Similarly, a flashier site known for its sassy style might bring out more of a snarky or vibrant feel.
Think about how you'd dress for a wedding vs. how you'd dress for the gym. Both outfits represent your tastes and create an accurate picture of you, but they're different because the setting is different.
The same is true for how you represent your brand in different digital environments. You need to know where you are advertising so that you know what you should wear.
Know who you're advertising to
Similarly, who you're talking to changes how you talk. The way you'd talk about your kids to your elderly neighbor is different than the way you'd talk about them to your best friend.
As an advertiser, you need to know how familiar your audience is with your industry, your brand, and the topics in your niche. You also need to speak to their demographic and persona. What are their interests? Problems? Goals? Without that information, you're left with generic messaging that applies to anyone, focuses on no one, and struggles to reach your target audience.
Think about how that works when you're part of a crowd. If someone sounds like they're talking to the crowd in general, it doesn't feel very personal. But if they start addressing things that matter to you specifically, suddenly you pay a lot more attention. You're more engaged in the message because it feels like they're speaking to you in particular.
If you don't know who you're advertising to, it's like being on a blind date. You don't know what your audience is like or what's going to appeal to them, so you have to cross your fingers and hope it goes well.
(Not a wise approach to advertising.)
Know your ad's purpose
I know this seems obvious, but the third key to making your ads look like they belong is knowing their purpose. Even if the tone of your ad fits the tone of the website (you dressed appropriately for the occasion), an inappropriate offer will still feel like a trespasser. And even if you know how to talk to your audience, the wrong topic can still confuse the conversation.
It's easy to start with a goal and think: we want to tell people about this sale, this product, or this service. But if you want your ads to connect with someone else's audience, you need to think about how to tie your offer into the experience your publisher provides and the needs and desires of their audience.
Who you're talking to, where you're talking to them, and what you're talking to them about all shape how someone experiences your ad.
So don't be a trespasser: create ads that look like they belong.