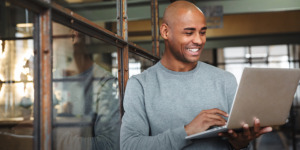 A lot of brands have an email newsletter of some kind. Maybe you email donors once a quarter to share stories about the people you've helped, thank your supporters, and ask for more donations. Or you share about product updates or new releases.
That's fine. But it's just scratching the surface of what you can do with an email newsletter.
Whether you send newsletters once a week, once a month, or just once in a while, getting into a regular rhythm can have a lot of benefits for your brand.
Here are three reasons you should consider sending newsletters regularly.
1. It's an Opportunity To Establish Thought Leadership
Your brand won't always have announcements to make. But whatever your industry, there's always something to talk about. Maybe a new study came out, or you saw a relevant story in the news. Maybe customers have been asking you the same handful of questions lately. Or perhaps you simply produced some new content your subscribers would appreciate.
A newsletter isn't just a channel for making announcements and soliciting support. It's an opportunity to provide commentary on things that are happening in your industry—or to point to commentary you've published on your blog, YouTube, or another channel.
By making a habit of talking about your industry and how changes could impact your customers or the people you serve, you'll establish thought leadership. Your subscribers will see your brand as an expert on a range of topics, and they may come to appreciate your perspective.
2. It's a Great Way To Keep Your Leads Engaged
If it's been months since someone last heard from you, they're going to be a lot less interested in your sales pitch. Sending a newsletter on a regular basis keeps your brand on your subscribers' minds and gets them used to hearing from you. And that makes your periodic promotional messaging a lot more effective.
It's the difference between keeping your leads in the warmer and keeping them in the freezer. A newsletter ensures that when it's time, your subscribers are ready to hear your pitch.
3. It's the Perfect Follow Up to a Nurture Campaign
Nurture campaigns (also known as drip campaigns) help your new leads get acquainted with your brand, product, or service after encountering you through an ad. After a few valuable emails that give your leads something they want (like free resources, tips for reaching a goal, or insight into a problem), nurture campaigns often culminate in a sales pitch of some kind.
These campaigns are important tools advertisers use to maximize the value of their leads. But what happens after your campaign ends? What do you do with the leads that convert? What about the ones that don't?
If you keep your newsletter supplied with a steady stream of content, then it can serve both of these audiences. Regardless of whether or not a lead converts, your newsletter will help them get to know your brand better and learn to trust you more. It's a valuable touchpoint to have with your customers and it keeps the door open to future opportunities with leads who didn't convert.
Someone who has spent the last few months benefiting from your insights into their job, their organization, or their unique challenges may be more receptive to your sales pitch than someone who only got to know you through a two-week nurture campaign.
Get Your Newsletter into a Rhythm
You don't have to send your newsletter every week. That's a good ideal to strive for, but the important thing is to send it frequently. And you get to decide what that looks like. Maybe it's biweekly, or once a month. Maybe it's on a specific day, and maybe it's not.
Being consistent will help set expectations for your subscribers, but as long as you send often, you'll start seeing the benefits of growing an active, healthy newsletter list.