Receiving an email in your inbox is great…if you open it. You probably personally receive many emails that you don't open to read thoroughly. Why? The subject line doesn't capture your attention, or maybe you lost interest in the topic you once signed up to receive information about. According to Ascend2, 53% of email marketing professionals struggle with low click-through rates. 
For that reason alone, you need a high email open rate to begin with to gain more clicks. We made suggestions on how to create simplicity in email marketing to do that. Your next step is to work on your click-through rates.
Here are seven different ways to improve email clicks.
1.   Optimize emails for mobile users.
Constant Contact reported in 2020 that 60% of users opened their email on a mobile device. That's a large number of users. It's essential when creating your emails to consider how they'll appear on a mobile device.
At the same time, Smart Insights reports: "Readers who open your email on their desktop are three times more likely to click on your campaign compared with mobile [readers]."
One consideration missing from the information here is the age demographic of your email subscriber list. In today's world, younger readers and busy business people tend to use their mobile phones more, while the older generations may use desktops more.
If you've read our previous posts about email marketing, you understand that knowing your audience is vital, as is segmenting.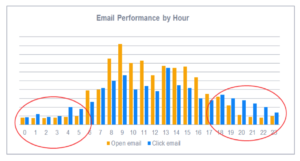 Source: Superoffice Blog – Email Click-Through Rates
2.   Find the magic day and time.
Who would've thought there might be a magic day and time to send out emails? There will be, for your particular audience. The hardest part, of course, is finding it. This is where A/B testing can be a help. Test your click-through rates when you send emails on different days or times.
Finding that perfect day and time has been shown to increase click-through rates by 15%. That is 15 more people out of every 100 who might choose to purchase from you because they clicked on an offering you provide in your email.
Stop and think for a moment about the times during the day when you're most likely to check your email. Is it either first thing in the morning before work, or at the end of the day after you've finished work?
Those times of day have proven to be two of the highest for click-to-open rates. Not only are subscribers opening emails, they're also more likely to click on a link in the email and take action. Having a high click-to-open rate is the ultimate purpose for any email marketing effort.
Interestingly, according to the Super office blog, the peak click-through rate time is between 11 am and 2 pm, right in the middle of the day. For your organization, trial and error will be the best way to find your peak day and time.
3.   Design the email layout for your reader.
Experts recommend three different ways to optimize your email layout.
Single versus multi-column layouts. Mailchimp says the best choice for simpler content is a single-column design to get readers to perform a specific action. Why? A single column of text is easier to read and more likely to have a person read down it to accomplish an action.
Mailchimp explains that if you are sharing a lot of content, then a multi-column layout works best. The key is determining what you ultimately want from your email campaign. Is it to have the reader take one action and click on a link, or is it to share the information you provide?
Understand how readers scan emails. The Nielson Norman Group studies how people read content, or, more specifically, scan emails when they open them. In their research, they found patterns in the ways people read. Some patterns have positive impacts on the way people engage with content, and others have a negative effect.
Author and web influencer Neil Patel says it's better to "front-load emails to offer the most important content immediately. Design them for scanners who begin at the top quickly making their way to the end."
Place the call to action on the right. The natural way to read content is from left to right in most countries around the world. For that reason, if you place a call-to-action (CTA) button on the left side of the page, it means the person reading the email has to go back to take action.
When writing your email, make the job of clicking on a link as easy as possible for the reader. Think about how a person reading the email will engage with it, and then design for optimum, easy engagement.
4.   Include social sharing options.
Social media plays a big part in people's lives these days, and while they may not want to redeem what you offer, they might have a friend who would. Adding social sharing options to your emails makes it easy for people to share your content.
Econsultancy published results finding that emails that include just one social sharing option generated 30% higher click-through rates than emails without any social sharing links. That CTR jumped to 55% higher with three or more social sharing options.
Remember that the simpler it is for your readers to share your content, whether information or offers, the more likely they will be to share. The more shares, the more people see your company.
Most email marketing platforms can include social media links in their email templates. Make use of these where possible.
5.   Focus on the one thing you want your reader to do.
In this blog post series, we've often spoken about the need to focus on the one thing you want your reader to do. In other words, keep things simple.
Before you even begin writing email content, be clear on what the one outcome is you want for email readers. Do you want them to click on a link to read a blog post? Are you asking them to sign up for a course? Do you want them to volunteer for a group? What is the outcome you desire?
Don't load the email with a ton of content unless you provide a newsletter with a lot of information for sharing. Keep all other emails simple and to the point. In doing that, there is more likelihood readers will read through your email, and if it matches their wants, act.
There are a ton of distractions in today's world. Your focus is on cleaning that up and making what you deliver as simple as possible.
6.   Pique their curiosity.
"The first and simplest emotion which we discover in the human mind is curiosity." – Edmund Burke
When people are curious, they are more inclined to act. Ultimately, that's what you want from your email — to make your reader interested enough to find out more about your workshop, course, book, or service.
What would make readers curious? This is where the creative use of headlines, or just enough information about something, without providing all of the detail, works. Enlist a different perspective on a topic that will have people more curious about reading what you have to say.
7.   Provide something of value.
What does your audience value? If you understand their needs and wants, you'll likely realize what they find value in. That is what you provide the link to in your email that will get them to click. It's the one piece of information they want to know more about. A link to something that will help them solve a problem.
Decide what offers your readers value and give them access to it. And don't just do that once. Use A/B testing to see if several different ways of offering that valued item mean greater click-throughs.
When you're successfully providing what your audience values, you'll see higher email open rates, which ultimately result in greater click-throughs. And that growing number means your on the path to more conversions —and ultimately, sales.