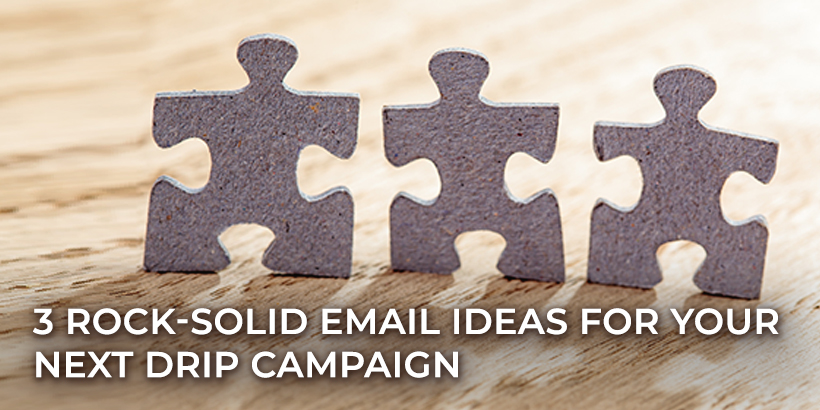 When someone signs up for your email list, that's probably not the time to hit them with a sales pitch. They still need to get to know your brand. And you still need to earn their trust.
Sure, a premature sales pitch will convert some of your leads. But it may also alienate people who would have converted down the road. And that's where drip campaigns come in. This series of emails helps your leads get familiar with your brand and ensures you add value before you ask them to make a purchase or donate.
Drip campaigns help maximize the value of your ad spend, because you get more conversions from every ad campaign.
Here are three types of emails you should include in your drip campaigns.
Ask people why they signed up
It's not unusual to see a signup form with several fields. This lets you gather data about your audience and filter them into separate segments. But it also reduces the number of people who sign up by creating more barriers between them and the thing they want.
Collecting this information through your drip campaign could help increase the conversion rate on your signup form by removing fields. This also helps you segment "general" subscribers who join your list from other places (such as a basic form on your homepage).
The first email you send should always be a welcome email. At this point, all you might know about your subscribers is that they signed up based on your call to action. But their roles or interests could significantly change the kind of content they're interested in, and ultimately, what pitch will make sense for them.
Your welcome email can set you up to send more relevant content by asking subscribers to identify their role or interests. You can build a separate campaign around each option you give them. If they don't select a role, you can keep them in a "general" list. And the best part is, when your drip campaign ends, you have a segmented audience you didn't have before.
Even if you prefer longer signup forms because they provide the most qualified leads, consider this: your drip campaign could help you identify which specific problems each subscriber is trying to solve. This can give you even more in-depth data—and plenty of intel for your sales development team to use on calls.
Sleeknote does a great job getting subscribers to segment themselves. (They also give people a reward for doing so.)
Showcase your most popular blog content
When someone signs up for your newsletter, it's usually because they want to hear more of what you have to say. This is the perfect opportunity for you to show them some of the most authoritative, insightful things you've ever said. Whether it's your most viewed, most shared, or most commented-on posts, this is the content that makes people say, "Wow, they really know their stuff."
By serving up specific content, you act as a tour guide for your organization. You send them your strongest material which helps them understand what you do, why you do it, and how you can help them achieve their goals.
You could also create posts and articles specifically for your drip campaign by asking yourself questions like:
What do we want people to know about what we do?
What might someone find interesting about our history?
What sorts of recognition, endorsements, or awards have we earned?
How can we help people meet their objectives?
When you send people informative and supportive content, they look forward to what else you have to say. The next time they see your name in their inbox, they'll be more likely to click on it.
Give people tips
Whether this drip campaign is for your newsletter, your free trial users, or new customers, providing useful tips helps your subscribers get more value from being on your email list. What kind of tips make sense for you to send depends on whom you're sending to.
For example, you wouldn't want to send someone tips for using your app or software if they just signed up to get an ebook from you. Instead, you could send them additional material that helps them further engage with the topics presented in the ebook.
Your free trial users, on the other hand, would probably appreciate a series of tips about how to get the most out of your product. Take a look at how Evernote and  ProdPad use their drip campaigns to  encourage people to take key actions that help them get more out of their trial. (Same goes for people who purchased your product or paid for a subscription.)