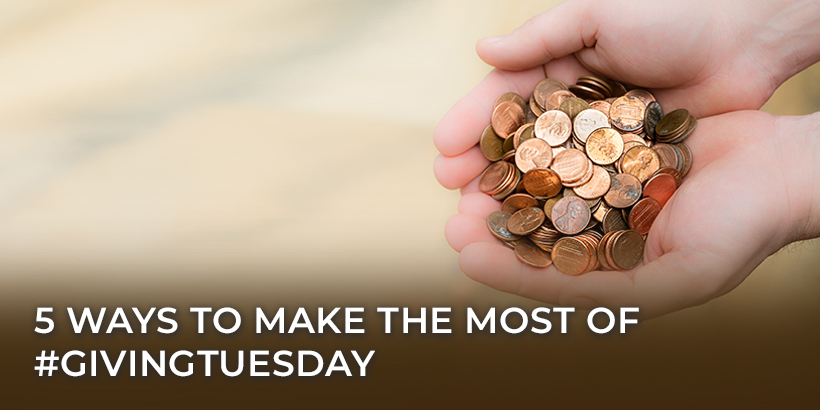 What if the holiday season was more known for generosity than commercialism? That's the heart behind the #GivingTuesday movement, and it's why it intentionally comes right after Black Friday and Cyber Monday.
GivingTuesday isn't about any one organization or cause, and it was launched on the hope that generosity could go viral—primarily through social media. Just seven years after its launch in 2012, GivingTuesday is the biggest giving movement in the world.
For nonprofits, this is one of the most important fundraising days of the year, because people are more willing to be generous and they're more interested in learning about ways to make a difference in the world.
In 2019, GivingTuesday falls on December 3, and it's going to come up fast. If you're a nonprofit, here are five ways to make the most of this moment.
1. Make sure people can donate online
A big part of what's made GivingTuesday so successful is that it leverages the convenience of digital giving and the power of social media. The brands that facilitate online giving have always had the most success with GivingTuesday because people can donate the moment they feel inspired to give.
Some nonprofits create a dedicated landing page for their GivingTuesday campaign. That can be helpful if you have a special promotion of some kind, but the main thing is just to make sure that online giving is convenient, clear, and obvious.
2. Partner with another organization
GivingTuesday has always had an emphasis on collaboration. For nonprofits, collaboration allows you to cross promote with a relevant audience and find new ways to serve the people you help.
You likely already have connections with other nonprofits in your space. Identify some areas of overlap, and brainstorm ways your organizations could work together. It might mean doing something unique, that neither organization does normally—like a clothing drive—or it could mean combining your services in some way.
Whatever you do, find something both of your audiences can get excited about and rally behind, and you'll both benefit from exposure to new, relevant people.
3. Show people the difference they can make
When people invest their money, they can calculate a clear return on investment (ROI). When they make a purchase, they know exactly what they're getting in exchange for their money. But when someone makes a donation, the ROI isn't always as tangible.
People may understand on a broad level that their donation is supporting refugees, helping needy families, or feeding the homeless. But you can make the impact of every gift more tangible by helping people see the specific ways you use their money, and how far their donations actually go. Maybe you could highlight some of the costs facing refugees, the cost of things you purchase for families, or the cost of a meal.
Some people hesitate to give because they don't feel like they can make a difference. You can inspire them to be generous by showing them why their donations matter.
4. Encourage people to share their stories
GivingTuesday is a huge opportunity to expose your organization to new people who value what you do—especially through the GivingTuesday hashtag and the power of social media. You already have an audience of donors, volunteers, beneficiaries, staff, and other people who have been directly impacted or inspired by what you do. So why not use these people to reach others like them?
If you can encourage your current audience to share their personal stories of why they support you or how you've made a difference in their lives, ideally using #GivingTuesday, that can introduce your organization to others and create opportunities for you to engage and affirm people you're already connected to.
5. Tell your story
Perhaps more than any other day, GivingTuesday offers a chance to introduce yourself to the world. This is a global, all-inclusive movement. And when this day rolls around, more people will be looking for organizations like you. So this is a time to find clear, succinct ways to tell your organization's story and elevate your brand message.
Maybe that means producing a new video from your founder or CEO. Or finding the perfect testimony that encapsulates what you're all about. Or maybe it means crafting the perfect Twitter thread, or experimenting with longer Facebook posts.
However you do it, tell your story the way you'd tell it to strangers—because on this day more than any other, they're listening.
Make GivingTuesday a success
December 3 is right around the corner. But there's still time to create and execute a plan to make this your best GivingTuesday yet.