When a new subscriber opts in to your email list, whether through downloading a free item or simply subscribing, one of their first impressions of you is through the email welcome stream they receive. At this point, they are highly engaged as they have chosen to connect with you.
That is why the email welcome stream is an essential piece of marketing to continue and strengthen the relationship you have just developed. You want to think of them opting in as their agreement to start a relationship with you. What sort of relationship do you want to have with this person?
Most likely, it will be a close and developing one. And to nurture that, your email welcome stream needs to work.
It's about getting personal, continuing momentum that's already there, building a relationship, and setting the groundwork for a fantastic long-term customer and BFF of your business. – Brittany Berger
What are the critical components of a great email welcome stream?
The things you would do in creating a new close relationship with someone are considerations for developing your welcome stream.
It's all about excitement.
You want to create an emotional connection with the person reading your emails. How do you do that? By telling a story, something the reader can connect with, personally. Make the story fun, give the reader something to laugh about. If they've been feeling down or had a bad day, this will be the greatest gift you give them as well as helping build on your connection.
The reader has connected with you and is excited to learn more. They may have read a number of your blog posts, or as mentioned, opted for a download; the point is they are excited to have found the information you have available for them. It is essential with your first welcome email to continue to create that excitement.
Cynthia Price also talks about it being like orientation. Show your visitor around, explain what to expect, point out where to find things, and explain how to connect with you in other ways. One way to build off the emotional connection may be to direct them to your Facebook or Instagram pages where you do live videos, for example. Remember to think "emotional connection" in writing any of your welcome stream emails.
Timing is everything.
It is essential to send out the first email in your email welcome stream straight away after the subscriber signs up. They are expecting to receive the first message promptly. The remainder of the email welcome stream sequence needs to be scheduled to keep the reader's interest. Everything depends on your marketing strategy, of course, but consider your timing so your readers aren't losing the feeling of connection with you.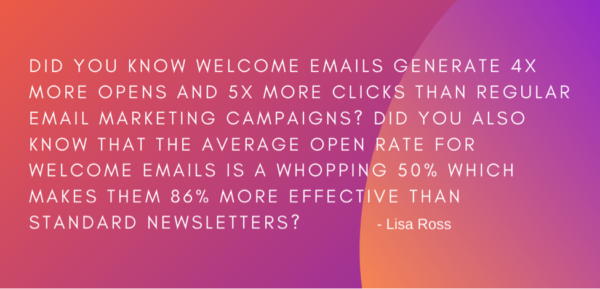 That may mean sending an additional email in only a couple of days from the first. Once your connection is built, sending it out once a week to keep you front of mind is valuable.
Make it visually pleasing.
You understand how much more enjoyable to read a book is if it has pictures or creates images in the readers' minds. Don't be afraid to use graphics in your email streams.
Crowdspring provides some great ideas in their post '7 Tips That Will Make Your Welcome Email Awesome.' These ideas include things such as expressing gratitude. Using an image to say 'Thank You' to your subscriber will make them feel valued and important to you. That, in turn, will have them want to continue to engage with you. Here's an example of something you could include – a photo with a message.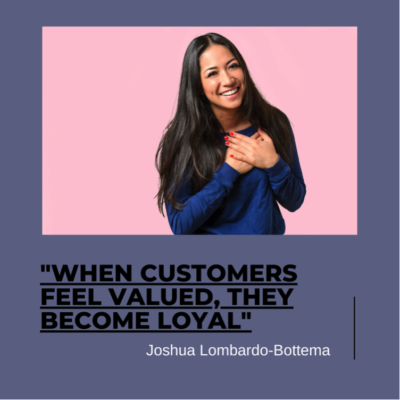 Remember to use different fonts, too, although not too many. Choose two or three and mix them up with headings and other content. That shifts the visual appeal of the content too.
Try adding different visuals to each of the emails you send out to gauge which ones appeal more to your audience. Link graphics to videos and see if the links are clicked on.
Create a popping subject line.
You probably have your own experience of having an email box full of emails. And you also understand how a subject line is a very first thing you read. Eye-popping subject lines stand out in the complete list, especially if it pops every time you send out an email. What would make you want to click on the subject line?
It turns out that creating a seven-word, yes a seven-word subject line works the best of all subject lines. With a seven-word subject line, you will get the maximum open rate of email and the highest engagement rate for the email. At least that is what the research behind finding the most optimal number of words for an email subject line found.
Find the right combination of seven words that stand out and appeal to someone. Make it exciting and engaging, and see what happens to your open rates.
Don't treat all your subscribers the same.
One last thing to consider when setting up welcome email streams. Don't treat all of your subscribers the same. One person could come to be on your list because they downloaded an eBook you had written on tips for Bible study, and the other person subscribed on your website after finding it. For the website subscriber, you have no idea what they are interested in. You don't know how many of your blog posts they have read or engaged with. But you have more info about the email subscriber.
So be sure to segment these different subscribers and create a separate welcome email stream for each of them. For the person who downloaded the eBook, be engaging and nurture the relationship based on the topic they were interested in – Bible study. That way, you can be sure they know you understand their interest.
That doesn't mean after the first initial emails in your welcome sequence that you can't talk about other topics. Make sure you start with the initial subject, though. For those others who came from the base subscriber form, mix up your content. You are trying to not only nurture them but also understand their interests more.
By engaging and segmenting this way, there is a higher likelihood they will remain engaged and continue to read your emails. Whereas if you don't segment them and send out the same welcome stream to them both, you are likely to see some lose interest quickly, and that is not what you want.