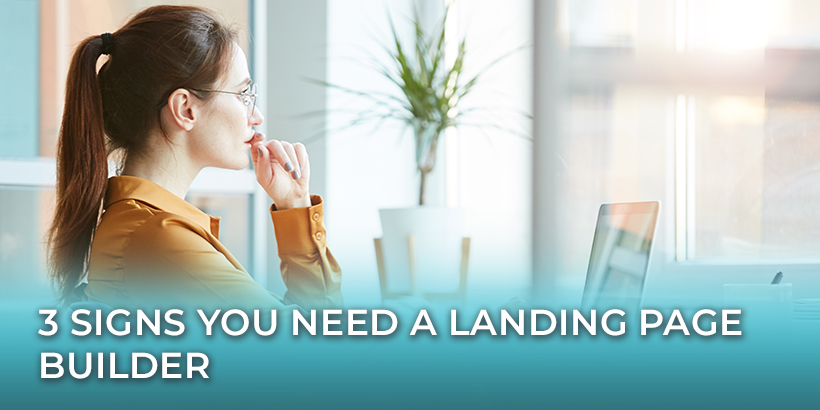 Most organizations are protective of their websites. Your URL represents one of your most valuable assets. It's the place people go to learn about your business, and it's a vital component of your sales engine.
You don't want everybody making changes to the company website. And anything that goes live needs to accurately reflect your brand's quality and values.
This often leads brands to create every page in house, relying on the developers and designers to make sure every new page fits with what has been created in the past, and doesn't negatively impact anything else.
Your website is worth protecting. Your brand integrity is worth preserving. But doing everything in-house can inhibit your ability to achieve your goals.
Modern landing page builders like Unbounce (and even free solutions like Google Sites) make it easy to create custom pages that fit right into your existing website.
Here are three signs your marketing team should consider using a landing page builder.
1. You're struggling to follow best practices
Sometimes your website's limitations and your organization's creation process can interfere with your ability to follow best practices. You know what a good landing page looks like, but your website and in-house resources simply won't let you make them efficiently.
If your landing page doesn't use responsive design and your forms are too long or too clunky, the visitors you send there won't convert. Your website's quirks could be causing you to waste all that hard-earned traffic.
Landing page builders let you work from a template to create exactly what you need, then add it to your website. They streamline the entire process to help you produce effective pages that follow best practices.
2. Creating pages consumes in-house resources
It's easy to feel like your designers and developers are being paid to design and code, so any time you need to create a new page, it should fall to these specialized employees. But their time is limited—and expensive.
Your landing pages take up valuable time in your design and development queues. And when you're not fully in control of what the end result looks like, you may wind up needing more back and forth to get it right. Especially if your website's framework requires in-house teams to create complex workarounds to follow best practices.
Quality landing page builders don't require any development or design expertise to change colors, layout, imagery, and text. They're intuitive and straightforward. Marketers can do everything themselves, and you can apply good strategy without worrying about the details.
3. Landing page production is taking too long
Some design and development teams work like well-oiled machines. You get your requests in the queue and they crank them out on a fixed timeline. But what happens when their priorities change? Maybe someone higher in your organization made a personal request, something broke, or someone took time off.
Delays are inevitable. And that creates problems when your timeline isn't flexible and you don't have enough cushion. You can't change the day a holiday occurs. You can't reschedule your conference.
If design and development bottlenecks are constantly forcing you to change the timeline of your marketing campaign, it's time to consider using a landing page builder. You can dramatically decrease your time to launch while still producing high-quality assets.
Don't let a landing page hold back your campaign
Conversion rates can make or break your advertising campaigns. Low conversion rates are often a signal that something is off about your campaign. It could be your targeting—maybe you're not talking to the right people. Or there's a disconnect between your ad and your landing page.
But if your click-through rates are good, and your audience is relevant, low conversion rates often indicate that your landing page is underperforming. If that's the case for you, you may want to look into using a landing page builder.