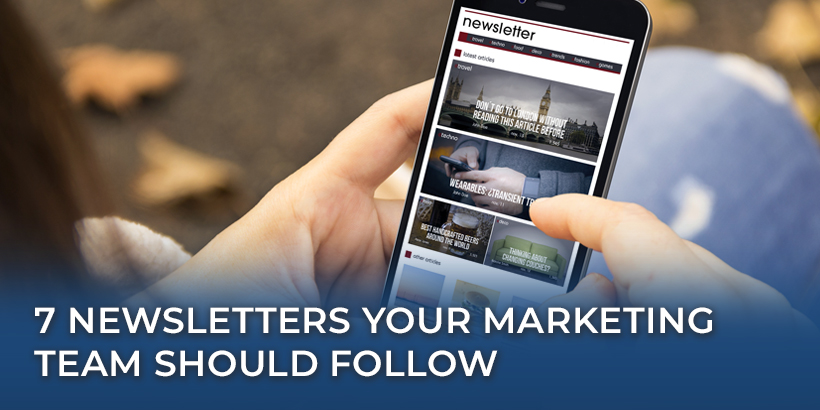 If you want your organization to get better at marketing, your team needs to immerse yourselves in best practices and new strategies.
Whether you're looking to get better at advertising, search engine optimization, social media, email, content marketing, or something else, there are brands and influencers who have dedicated themselves to teaching people about those topics.
At Outreach Media Group, our newsletter talks about how marketing principles and strategies apply to organizations that advertise to a Christian market. But there's more to learn and keep up with than we can possibly cover in a weekly email. And we want you to be as successful as possible.
So here are just a few major newsletters we recommend following, along with a brief description of what they do and why we appreciate them. You may have heard of some of them before, but hopefully we'll introduce you to some new marketing experts your team should get to know.
1. AdAge
For 90 years, AdAge has analyzed and reported on the advertising industry. Every weekday morning, their Wake-Up Call newsletter shares the latest news advertisers should know. They examine major ads and talk about what makes them succeed or fail, share updates about advertising choices various brands have made, and explore ways the state of advertising is changing.
2. Jon Loomer
Jon Loomer is one of the most brilliant Facebook advertising specialists out there. Any time something changes in the world of Facebook ads, he's already prepared with an analysis of how it will impact marketers. He's also great at finding important studies Facebook marketers should be paying attention to. Jon Loomer's newsletter sends weekly emails with breaking news, advanced tutorials, and helpful marketing tips.
3. Backlinko
Brian Dean is one of the biggest names in search engine optimization (SEO). If you're looking for reliable, accessible insights into how your organization can use SEO to increase traffic to your website, his newsletter is for you. Some of Brian's older pieces have been incredibly influential (he defined how the industry thinks about long-form content with his "skyscraper technique"), but one of the best parts of his newsletter is that he frequently updates these classics to highlight new strategies and insights from recent studies.
4. Ahrefs
Ahrefs makes one of the most popular and advanced SEO tools available. They also produce a lot of really insightful resources and data-based studies to help people improve their websites and get more traffic. Their newsletter provides you with a steady stream of new SEO content and shares some of their most popular tips from the past. (The signup form is at the bottom of the page.)
5. Buffer
Buffer creates tools to help businesses publish and analyze social media content. So naturally, their newsletter showcases their expertise on all things social media. They'll send you studies about the best times to post, how to establish a rhythm on social media, and tips for making your social media marketing more effective. You can choose to hear from them every time there's a new post, or simply once a week.
6. SparkToro
Rand Fishkin co-founded Moz in 2004 and made a name for himself in SEO marketing. More recently, he split from Moz and founded SparkToro, a company that recently released their new tool to help brands find "hidden influencers" they should be reaching out to. On the SparkToro blog, Rand shares relevant, timely insights into the world of digital marketing. You can sign up for his newsletter here.
7. CopyBlogger
Good marketing starts with good writing. If you want your team to get better at writing, CopyBlogger is an invaluable brand for businesses to follow. CopyBlogger's newsletter takes you through their greatest hits, so you can immediately start becoming better copywriters.
Never stop learning
Even if you're familiar with the best practices for every type of marketing, keeping up with the latest strategies can be the key to giving your organization an edge. We'll keep sending you tips every week, but don't forget to introduce your team to the marketing pros above. Forward this email to your team and find out what newsletters they follow.