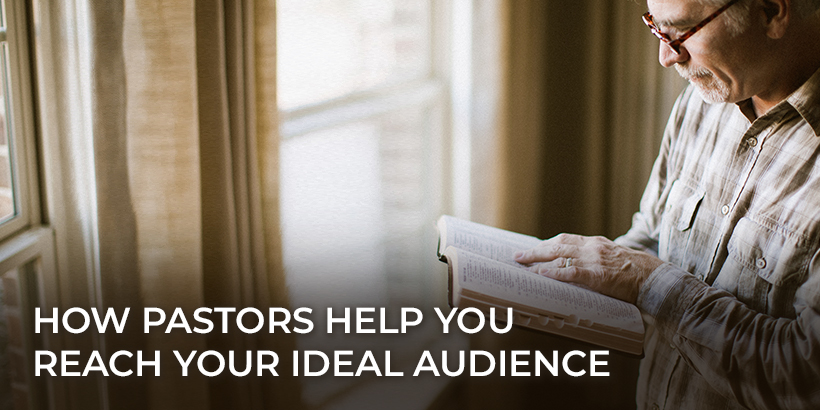 For brands that create church products, the decision-makers are often elder board members, tech directors, or ministry leaders. If that's you, it might seem like a waste of effort to advertise to pastors or create unique content for them. They're not the ones buying and using your product or service, so what's the point?
Here's how reaching pastors can directly benefit your brand, no matter who in the church you're trying to reach.
1. Pastors influence church members
When a pastor recommends a book, movie, product, or service, their congregation isn't thinking, "What does he get out of this?" Church members trust their pastors.
That's why if you have a tool or service for church members, you want pastors to know about it.
Imagine if during a sermon about discipleship, a pastor mentions your brand as a resource to help them grow. Or they if told their congregation about your parenting conference at the end of a sermon about biblical parenting. Those are huge opportunities to reach your audience that only happen when you've convinced pastors that you have their members' best interest in mind.
But what's far more likely than a sermon shoutout is that pastors will refer specific people in specific situations to check out what you have to offer. As pastors seek to help members improve their marriages, process grief, and understand how God's Word applies to their lives, they're going to seek out the best tools for each situation.
2. Pastors influence the elder board
Even in small churches, big decisions are rarely made by a single person. Elder boards provide a safeguard against bull-headed decisions and help churches ensure that they're taking the time to prayerfully consider what God is leading them to do. Whether a church has two elders or 20, these people are often the primary decision makers.
The board serves an incredibly important function, but it can also be frustrating when you want churches to embrace your product or service. That's why reaching pastors is so important for brands that market to churches. Even if they can't single-handedly sway the board, winning over pastors ensures that someone in the room will advocate for your brand's seat at the table.
A pastor's influence over the elder board is most valuable to brands with expensive products or services, like software, pulpits, or subscriptions. These kinds of purchases are more likely to cross the threshold that requires elder board approval. The more significant the cost, the longer the conversation will be, and the more opportunities there are for a pastor to influence the decision.
If you can win over a pastor, you're going to be the first place their church turns when they start preparing for those big purchases.
3. Pastors influence ministries
Whether you're trying to reach ministries that operate independently of the church or specific ministries within the church, pastors serve as a source of wisdom and insight for the people who lead those ministries. When ministry leaders have problems or want help reaching their goals, they turn to pastors first. So if pastors know you have the solutions their ministry leaders need, they're going to recommend you.
Plus, pastors are often the ones who lead people to start ministries, and they often begin with a vision built around a specific resource. If your organization serves ministries, you want pastors to know about it. Otherwise they're going to design their programs around other resources, and they're going to use other tools and refer their leaders to other brands—not because they're better, but because they're better known.
So how do you show pastors that your organization has what their church needs?
How to reach pastors
You might have a great product or service. But if pastors don't know about you, they won't be your champions. There are a lot of ways to reach pastors, but some of them take more work than others.
Here are a couple of ways you can start reaching pastors right now.
Produce content pastors need
The pastor's job is becoming more and more tech driven. Sermon writing, service preparation, and community management is almost all done in the cloud. When they're looking for inspiration, content, or help, they go to the Internet first. Find the overlaps between what you do and what pastors look for, and then produce the best possible content that fits in that overlap.
Advertise in places pastors already are
Lots of organizations want to reach pastors. And it's not easy to produce original content in a competitive space. But you don't necessarily have to do that, either. Many websites and brands have already worked hard to earn an audience of pastors. Advertising on these sites lets you piggyback off of their carefully cultivated content and associate your brand with theirs.
Then when pastors turn to the resources and brands they already know and love, they see you and discover what you do.
A pastor might not be your ideal audience, but they might be your ideal spokesperson. Whether your goal is to reach individual Christians or church staff, pastors are the primary influencers of  your ideal audience—and that means they're absolutely worth reaching.