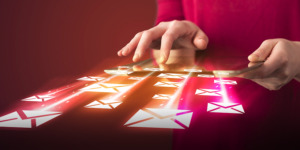 You put a lot of work into your advertising campaigns. You create lead magnets, optimize landing pages, produce assets, and fine-tune your pitch. But if you want to get the most from all that work, your campaign needs an effective email strategy, too. And an effective email strategy involves multiple types of emails.
Because leads don't behave like customers. Making a hard sell too early in the relationship can cost you. And even when your leads don't convert, they're still valuable—you just need a plan for what to do with them.
You need a lot more than a series of sales pitches. Here are five types of emails top brands use to maximize sales and increase the value of their ad campaigns.
1. Welcome Emails
When someone signs up for your email list, you want them to hear from you as soon as possible. Welcome emails help you capitalize on each lead's decision to sign up—before they forget who you are or why you're emailing them.
Even if someone has signed up for a consultation or something that requires one of your employees to follow up with them individually, there needs to be an automated email that comes sooner. Your welcome email shouldn't take weekends or holidays off, or only be available during business hours.
Welcome emails are an important touchpoint for two big reasons:
They confirm that the action your lead took actually worked. They're on the list now.
They set expectations for every email that comes after.
This is your chance to give people a heads up about how often they can expect to hear from you, and what you'll be talking to them about—which hopefully relates to your lead magnet and the messaging on your landing page.
2. Nurture Emails
Nurture emails (also known as a drip campaign) give your leads a steady stream of content over a span of days, weeks, or even months. These emails may prompt your subscribers to take their next best step after signing up for your list, such as reading an article, watching a video, trying a product feature, or even engaging with you through another channel (social media, chat, etc.). Or, they may simply provide valuable information, like how to complete a task, solve a problem, or reach a goal.
The point is to maintain the relationship. If you let your leads go cold, your eventual sales pitch will be a lot less effective.
3. Re-Engagement Emails
If a subscriber stops opening your emails or interacting with your product, that's a sign that something needs to change. You can't just keep sending the same kinds of messaging. Re-engagement emails are exactly what they sound like: targeted emails to help you reconnect with unengaged subscribers. They use subject lines like:
We haven't heard from you in a while . . .
Are you still interested in [reason they signed up]?
We have a gift for you!
You can decide how many emails someone has to ignore or what other cues will trigger your re-engagement emails. But the point is to break the routine and remind them why they signed up. Some brands use these to let people know that they're about to be removed from the list (since you don't want unengaged subscribers), or to prompt them to reevaluate their email preferences.
The goal here is to win leads back and earn another chance to make your pitch down the road.
4. Surveys
Surveys are a valuable way to learn more about your audience and potentially generate some talking points. Let's say you have a list of 1,000 pastors or church leaders. You could use a survey to hear their thoughts about a topic or problem that relates to your industry, then publish the results to create a new lead magnet, attract links back to your website, or simply keep your audience engaged.
You could also use them to further qualify (and segment) your leads and ask questions you couldn't fit into your sign up form.
5. Milestone Emails
If someone has been using your product or supporting your organization for a long time, it's often worth acknowledging that. When people donate monthly (or irregularly), they may not realize just how generous they've been. Or maybe your software has saved them a certain number of hours or money. These are things you should bring up.
Every time someone crosses a milestone in their relationship with you, that's an opportunity to engage them—and encourage them to reach the next milestone.
Acquiring leads isn't the end of your advertising campaign. It's the beginning of your relationship with your subscribers. Make sure you're sending the right types of emails to them.