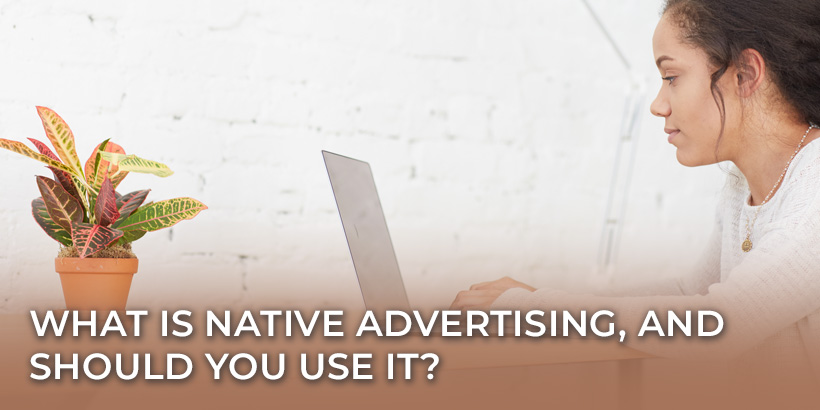 While most other forms of advertising disrupt a consumer's reading or viewing experience in some way (like a forced a commercial break or a popup ad), native ads are designed to imitate the natural ways people expect to find content.
Native ads blend in with the sites, apps, and platforms they appear on. You see them in your newsfeeds on social media, the top and sidebar of pages in Google, and at the bottom of articles.
How well do native ads perform?
Right now you might be thinking, "Don't more people see the top of an article than the bottom?" But just because other advertising formats can be more prominent doesn't mean native ads can't deliver the same results—or better.
According to Outbrain, "Consumers look at native ads 53% more than display ads. Native ads create an 18% increase in purchase intent, and the visual engagement with native ads is the same, and even slightly higher, than the original editorial content."
Do native ads mislead consumers?
You might also think native ads sound deceptive—and it's true, the Federal Trade Commission has investigated whether they cross the line and mislead consumers. But here's the reality: consumers still know these are ads.
Stanford University professors conducted an experiment to see if consumers could tell the difference between native ads and organic content. They can. They're just more receptive to native ads because they appear in more natural, appropriate ways.
It's the difference between a door-to-door salesperson and a DIRECTV representative standing inside Costco. One of them is going to interrupt your family dinner. The other is going to reach out while you're already thinking about buying stuff.
So whether you're having a hard time with other types of advertising or just thinking about ways to supplement the advertising you're already doing, here's how to get the most from native advertising.
Advertise your best content
Native advertising is best suited to amplify your content marketing efforts. Think about it: what do people want to see in their newsfeeds? Something interesting, entertaining, or educational. What are people expecting at the bottom of an article they enjoyed? A new topic to explore.
People encounter native ads at times and places when they're expecting to see content and they're most ready to consume it.
Tell a story
Even young organizations have stories to tell. If your company has been around for decades, you've probably picked up a few especially interesting stories along the way.
Maybe they're stories about your customers. Maybe they're stories about problems you've solved. Or maybe they're simply narratives you've identified within your target audience. These stories might solve problems your audience has or speak into their desires.
Since native ads naturally lend themselves to content marketing, they provide great opportunities to share your most engaging stories.
Teach people something
Your organization has expertise. Maybe that expertise is what allows you to create and sell your products. Maybe it's part of your service. Or the work you do throughout the world.
Turn that expertise into content. Even if your writers don't have the expertise they need to write thought leadership articles, they can do research, interview the experts you do have, or work from other materials you've produced like books or courses.
In this way, native ads don't just list your credentials or history of success—they help you demonstrate your expertise to your target audience in an engaging way.
Ads that don't feel like ads
There are lots of different ways to use native advertising—online and in print. But all native ads have one big thing in common: they look and feel like content. This makes them ideal for building brand awareness and filling the top of your marketing funnel.
If you haven't already experimented with native advertising, it might be time to look into these ads that don't feel like ads.