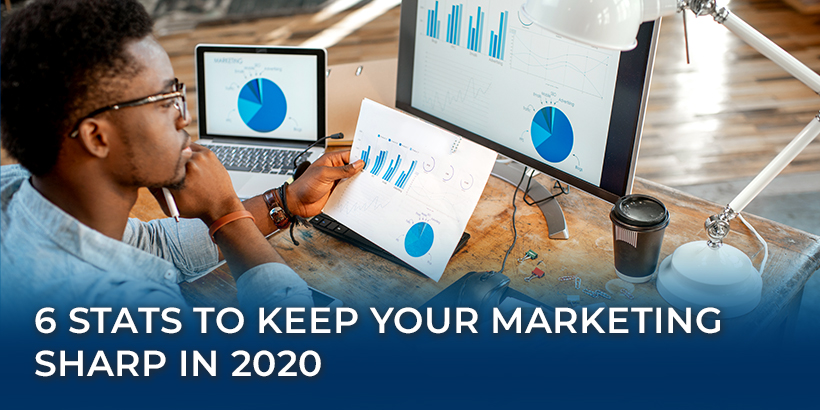 When it comes to best practices, the marketing world rarely experiences dramatic shifts. But every year, there are a handful of new insights we can use to better reach and engage our audiences.
As you roll out your plans for this year, here are six stats to keep your marketing sharp in 2020.
1. Consumers spend about five hours per day checking email
When an email list consistently underperforms, organizations often wonder, "Is email still effective?" According to the 2019 Adobe Email Usage Study, consumers spend an average of five hours or more per day reading their emails. Three hours for work email, two for personal. It varies a bit from one generation to the next, but regardless of who you're trying to reach, email is a communication channel they're using.
If your email list just isn't delivering the results you expect, this is probably a good time to freshen up on some email best practices.
2. Instagram is the key to reaching Gen Z
If you want to reach young people, you need to be where they are. But you also need to think about where they're most responsive to marketing. Right now, that's Instagram. According to a 2019 report, 73 percent of Gen Z consumers prefer brands to contact them about new products through Instagram. So if your product or service is relevant to people 23 and under, you should probably be on Instagram in 2020.
3. Gen Z is most receptive to online advertising
Gen Z has grown up immersed in the digital world. They grew up with smartphones, tablets, and social media. So it shouldn't come as a surprise that they're also most comfortable with digital ads. According to Adobe, 52 percent said they frequently engage with companies that advertise online (compared to 30 percent of consumers on average).
4. Boomers are most likely to exchange their data for deals
Baby Boomers will gladly give you their data if it means you'll give them a better deal.
In a survey, 73 percent of Baby Boomers said they are happy to exchange their personal information for discounts and special offers. The value of these kinds of exchanges is more tangible: "I give you my contact information and personal data, and you give me something that saves me money."
A lot of brands use their email lists simply to share deals. If your target audience is primarily Boomers, that could be a highly effective approach.
5. About half of all web traffic in the world comes from mobile
Smartphones and other mobile devices have now been around for more than a decade. Today, 96 percent of all US consumers own a cellphone of some kind, and 81 percent have a smartphone. And across the globe, mobile devices have become one of the primary ways people access the Internet. According to Statista, nearly half of all global web traffic comes from mobile devices. This is why Google has been warning for years that it would penalize sites that aren't mobile friendly and don't use responsive design.
If you're still not optimizing your emails, websites, and online experiences for mobile, then you're creating a terrible experience for about half of your audience!
6. Consumers are more likely to buy from brands they follow on social media
Brands often struggle to justify putting time and effort into their social media channels. How much is a like actually worth? What's the ROI on the average post? It's extremely difficult to calculate the value of growing an audience. But according to a survey by Sprout Social, consumers are 77 percent more likely to buy from a brand they follow on social media. Additionally, 67 percent say they're more likely to spend more with a brand they follow, and 78 percent will recommend brands they follow to family or friends.
So is content marketing on social media worth it in 2020? Absolutely. Just make sure you choose the platforms your audience actually uses.
Start 2020 off right
The start of a new year is always a great time to reevaluate your marketing strategy. We hope these stats will help you stay on track or recognize if there's an area where you need to make some changes.