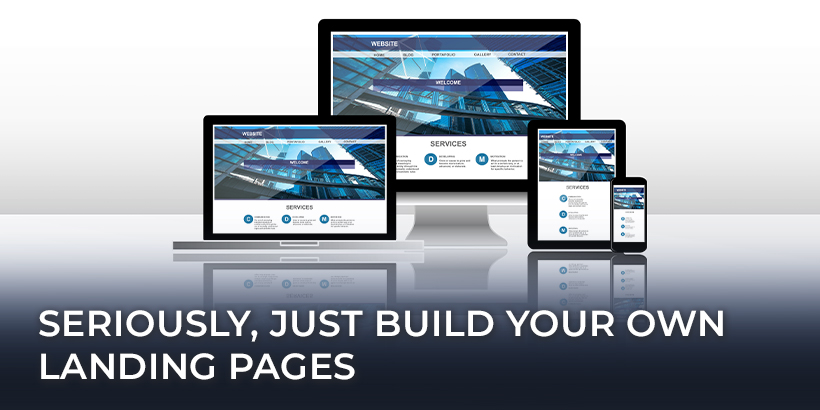 Our goal is to help you get the most out of your ad spend. But if your ads don't drive people to a high-quality landing page, you're simply never going to get the results you want. 
Sometimes legacy code and other hurdles on your website prevent you from following best practices on your landing pages. Or producing new pages for each campaign consumes too many resources from design and development–or it just takes too long–so you have to reuse landing pages for campaigns they weren't designed for.
If you're tired of lousy landing pages holding back your ad campaigns, just use a landing page builder. Whether you use a free tool like Google Sites or a more robust solution like Unbounce, the process is straightforward, and you can get a result that fits your website, looks good on mobile, and follows best practices.
It takes about as much skill and expertise as building a PowerPoint presentation–without all the "special effects."
Here's how it works.
1. Choose a template or start from scratch
Landing page builders are designed to be easy enough that anyone can use them while still giving people the flexibility to pursue their own ideas. With a template, you can start with "the bones" of a landing page and add what you want. Unbounce has more than 100 templates to choose from, and Google Sites has 13 you can use for free.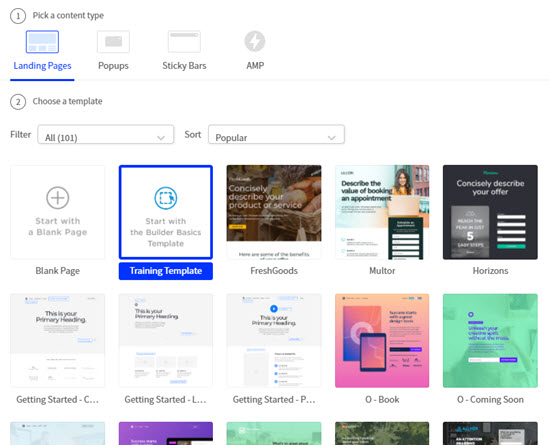 If you don't see a template that looks like the page you want to create, and you feel confident in your drag-and-drop skills, you can start with a blank canvas, too. 
2. Add or remove sections
Myspace pages took more work than this. Want a banner image up top? There's a placeholder for you to add it. Don't like it there? Take it out. Want a form? Put it where you want. You can modify background colors to make the page fit your brand, and you can create distinct sections of text as needed.
[Insert screenshot of a specific template]
3. Insert your content
Whatever landing page builder you use, it's easy to upload images and type right on the page. Unbounce even has a public image gallery if you don't have an existing image you want to use and can't find a stock photo that works.
Since you can easily add and remove sections, your page can have as much or as little copy as you want. You can take a "bare-bones" approach to maximize attention on your form, or take your time setting up your sales pitch.
4. Publish the page to your website
This is the trickiest part. You have to connect the landing page builder to your domain. But thankfully, you just have to do that once–then you can add new pages to your website with a click.
In order to connect the builder to your site, you need admin privileges to your organization's website. So you'll probably need approval from development or someone in leadership. (Just because anyone can make a landing page doesn't mean you want everyone to have publishing privileges.)
Google Sites asks you to verify ownership of your domain by signing into your domain name provider. The process is pretty similar for other landing page builders. They just need to confirm that you're authorized to publish pages to the website. Once you're approved, you can just enter the URL you want–and next time, that's all you'll have to do.
Give your campaigns the pages they deserve
Using a landing page builder gives you faster pages with less overhead costs. Instead of days or weeks of design and development time, you can push a landing page live with an afternoon of a marketer's time. And if your website has been holding you back from creating high-quality pages, they'll look and perform better, too.