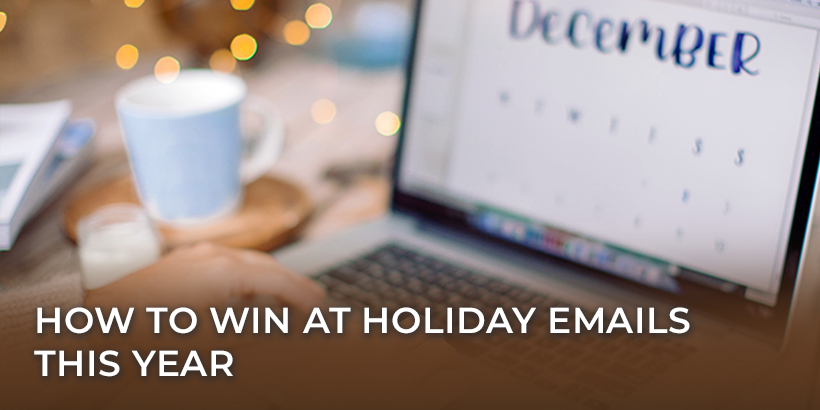 With fall just getting into swing, it might feel like you still have plenty of time to prepare for holiday sales and special promotions. But if you plan on increasing sales with holiday offers this year, you actually need to start preparing right now.
Plenty of consumers make last-minute purchases during the holidays. But most people go into the holiday season with some idea of what they want to spend and where they want to spend it. If you want to be part of their holiday plans, you need to get your foot in the door before they've made up their minds.
Whether you've built your own list of leads or you're paying to send to a partner's email list, an attention-grabbing holiday email can be an effective way to get attention on your special offers and upcoming sales. Here's how to make sure it's effective.
Start promoting holiday sales now
Consumers start looking for deals well ahead of Black Friday and Cyber Monday. In fact, Credit Karma found that nearly half of US consumers have already started shopping for the holidays by October.
And the month when most people start? September.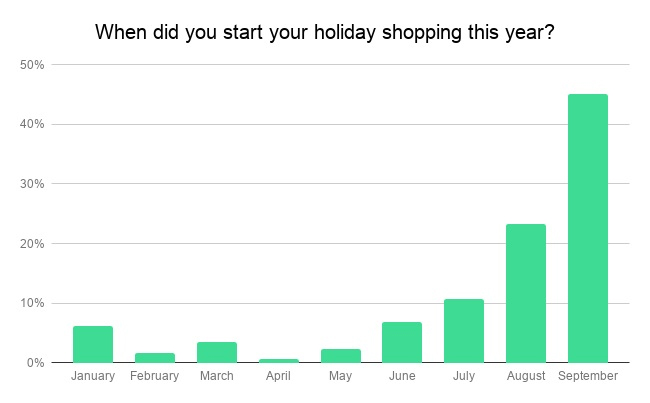 Image source: Credit Karma
As you can see, some people started shopping in January. So is it ever too early to send holiday emails? Clearly not for some people.
By October, many people in your audience will already have some ideas about how they'll spend their money. If you wait until then to start promoting your offers, you'll have to work harder to prove why your product or service deserves to be part of their holiday shopping budget.
So start now.
Emphasize perks that matter
During the holidays, some incentives carry more weight. For example, nobody wants to worry about if their order will arrive in time for Christmas, so shipping can have a big impact on whether or not people will buy. And everyone is looking for the most extreme deals.
Your messaging should include the perks that people seek out the most for holiday purchases.  That may include things like:
Free or fast shipping
Gift wrapping
A generous refund policy
Steep discounts
Free add-ons
Even if people already want to buy your product or service, they may decide to take their money elsewhere if your holiday promotion doesn't mention some serious deals and include key perks everyone else is offering.
Make sure your message matches your landing page
Say someone is totally sold on your email, and they click through with the intent to buy. But when they click on the product image in your email, they end up on a page that makes no mention of the special offer they just read about. Or maybe your email used messaging directed at church tech directors, but the landing page is talking to pastors.
These kinds of inconsistencies create confusion at the moment before conversion. If you want to maximize conversions, you need to make sure your message matches your landing page. This includes your:Images (or at least the style of them)
Headlines
Benefits, perks, and incentives
Tone
Call-to-action
When someone clicks through from your email to your landing page, they should immediately feel like they're in the right place. They shouldn't have to hunt to find the information trail that led them to your page. They should simply be able to take the action you told them to take and receive all the benefits you mentioned in the email.
Consider new experiments with subject lines
As people's inboxes start getting cluttered with holiday emails and special offers, it's going to become even more important for brands to find ways to cut through the noise. This is also a time when it's more common to see brands do things they don't normally do—like use emojis in subject lines.
If you've been on the fence about trying different styles of subject lines, now is a great time to test some ideas and get creative. The only way to be sure your holiday email is the most effective it can be is to A/B test it.
Don't miss out
You've still got time before Black Friday, Cyber Monday, and last-minute Christmas promotions. But now's the time to start talking to your audience about holiday shopping. Consumers spend more money over the holidays every year. But if you want them to spend their money with you, you've got to reach them before they decide what they're getting this year.