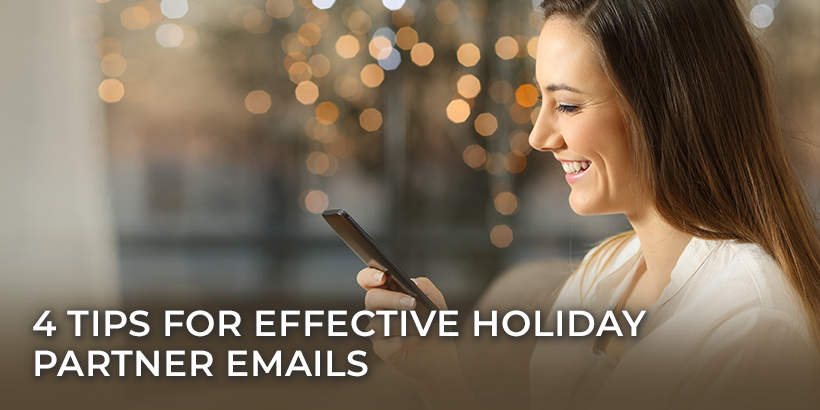 Most people don't go into the holiday season knowing exactly what they're going to buy. But they do plan to spend money. A lot of it. In 2017, the average US consumer expected to spend more than $900.
And they're more generous during this time of year, too.
Where that money goes depends on which causes and organizations capture people's attention. They're already on the hunt for the perfect gift and are open to learning about ways to positively impact other people's lives.
So it's no wonder that so many companies decide to send partner emails during the holidays. Messaging the right people at the right time of year can boost sales and support the other holiday promotional work you're doing. And buying or exchanging email sends lets you tap into large, relevant audiences of new people.
If you're considering sending a holiday email to someone else's email list, here are four tips to help you maximize the opportunity.
1. Know your audience
When partner offers perform poorly, it can usually be traced back to one crucial problem: the email wasn't relevant. It's tempting to think that during the holidays, anything about the holidays or special sales is automatically relevant. But that's not true.
Every audience and every email list is different. You might think it's better to write generic messaging that applies to the broadest possible audience. But if your message is for no one in particular, no one in particular is going to read it.
Take the time to get to know the audience you're sending to. Who are they? Moms? Pastors? What do they care about? What kind of emails are they used to receiving? Try to get a sense of why they signed up for this list. What are they hoping to get from the organization you're partnering with? Can you speak into those aspirations or needs?
Align your message with their expectations, and find the overlaps between your story and theirs.
2. Take design cues from your partner
When people see that an email has come from a brand they know and love, that's often enough to open it. But if that email looks like it came from someone else, it immediately feels like a bait and switch. And that's not the kind of surprise you want people to feel when they read your offer.
As much as you can, find the ways that your brand can fit into the "norm" of the email list you're sending to. Are these emails typically all text, or image heavy? How long are they? What's the voice like?
This isn't about copying someone else's brand. It's about knowing how to dress for the occasion. Is this a Michelin star restaurant or a fast food joint? Knowing the difference is an important part of making your emails feel like they belong in someone's inbox.
3. Offer something that's just for them
Especially during the holidays, people are prowling for good deals. They don't want to pay full price. They want add-ons and bonuses. And they want exclusive offers, so they'll feel like they:
Got a better deal than everyone else
Made the most of their holiday budget
As much as possible, try to make your exclusive offer as relevant to this audience as possible. It could be as simple as a coupon code with the name of the organization whose list they were on . . . but that's just scratching the surface of what you can do here.
You could offer them a free gift with their purchase. This could be a product or service you normally offer separately, or something else entirely. You could even plan something with your partner organization, such as an add-on product or service they offer, or unique content you created together.
Offering an exclusive free gift can be a great way to incentivize influencers to make purchases for your target audience, too. Even if they aren't directly in your target audience, people may be Christmas shopping for someone who is. A free gift for them could be just what they need to choose you over the other gift ideas they already had.
The key to deciding on the right exclusive offer is making sure it will appeal to the right people. Knowing who you're talking to affects pretty much everything else.
4. Make the path to purchase simple
The less people know you and your brand, the less they're willing to jump through hoops to act on your offer. So if you're emailing someone else's list and pointing people to your website, make sure there are as few steps in-between as possible.
Where do they go after they click your link in the email? Is there a landing page that walks them through exactly what they need to do? Are they taken to a product page? How hard is it to use a coupon at check out or access your special offer?
This is where it also helps to have a professional, polished website. People are already going to be a little hesitant when they click through a partner email—this may be their first exposure to your brand, and they're still deciding if you (and your offer) are legit. A high-quality, streamlined website will help give them the confidence they need to follow through on your offer.
Use holiday emails responsibly
Buying sends to someone else's email list can be a great way to reach more people in your target audience. It's a lot less work than growing an email list from scratch, but if you want to get the most from your purchase, take the time to get to know your audience and consider what they'll be most intrigued by about your brand, product line, or services.